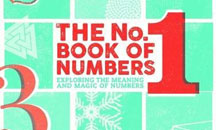 The No.1 Book of Numbers
PUBLISHING ON OCTOBER 18th
• WHY IS 7 SUCH A LUCKY NUMBER AND 13 SO UNLUCKY?
• WHY DOES HEINZ HAVE 57 VARIETIES?
• WHAT IS THE HOTTEST RECORDED TEMPERATURE ON EARTH?
• HOW MANY DIFFERENT TEAMS HAVE WON THE PREMIER LEAGUE?
Find the answers to all these questions, and discover the many other
fascinating ways in which numbers continually order and enrich our lives in
this absorbing collection of facts and trivia.
Explore the world of numbers from the evolution of counting, to the way in
which our houses, roads and telephone numbers are designated. Find out
why almost all snowflakes have six sides, learn about the ancient 'science' of
numerology, and discover the backstories behind films, books and songs with
numbers in their titles.
So whether you've ever wondered why there are 60 seconds in a minute, how
to calculate the odds in games of chance, why Coco Chanel selected No. 5
for her iconic perfume, or how the title Catch 22 was chosen, then this is the
book for you.
Taken from the book The No.1 Book of Numbers.