ABOUT RUTH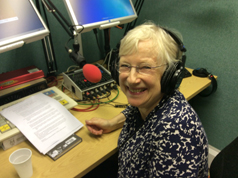 Ruth Binney (neé Chanter) spent her childhood in Tiverton where her father was a housemaster at Blundell's School. For 10 years between 2002 and 2012 she lived in West Stafford, a village just outside Dorchester with her late husband Donald, where she continued her writing and editorial consultancy as well as her interests in gardening (as General and Show Secretary of the Bockhampton and District Horticultural Association and in her own garden and allotment) in cooking and entertaining and in walking and caring for the countryside.
Ruth was educated at The Maynard School Exeter and Tiverton Grammar School from where she gained an Exhibition in 1962 to Girton College Cambridge to read Natural Sciences, studying Botany, Zoology and Physiology in Part 1 and Genetics in Part 2. She also won a swimming half blue. Her career in illustrated non-fiction publishing began at Thames and Hudson on The Explosion of Science.

After two years away from Dorset Ruth is now back in Dorchester and working on a variety of projects including contributions to a book on Bird Lore, the folklore of Ireland and Scotland titles in the AA Yellow Guides series. She has a new book in preparation on Plant Lore and Legend for Rydon Publishing, due out in spring 2016.