ABOUT RUTH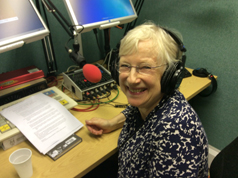 Ruth Binney (neé Chanter) spent her childhood in Tiverton where her father was a housemaster at Blundell's School. She is now happily settled in Yeovil, Somerset, and working on a variety of projects as well as enjoying the luxury of 'retirement' including family and friends, travel, football, walking netball and, most recently, painting in acrylics. Her latest books are Weeds on Trial, which reveals the good and bad of these garden invaders (and will be followed in 2020 by a sequel, Garden Wildlife on Trial), and Country House Secrets, detailed opposite.
For 10 years between 2002 and 2012 she lived in West Stafford, a village just outside Dorchester with her late husband Donald, where she continued her writing and editorial consultancy as well as her interests in gardening (as General and Show Secretary of the Bockhampton and District Horticultural Association and in her own garden and allotment) in cooking and entertaining and in walking and caring for the countryside.
Ruth was educated at The Maynard School Exeter and Tiverton Grammar School from where she gained an Exhibition in 1962 to Girton College Cambridge to read Natural Sciences, studying Botany, Zoology and Physiology in Part 1 and Genetics in Part 2. She also won a swimming half blue. Her career in illustrated non-fiction publishing began at Thames and Hudson on The Explosion of Science and continued with publishers including Mitchell Beazley (where she was an editor of The Joy of Knowledge encyclopedia) and wrote for, edited and developed new partworks for Marshall Cavendish. She ended her full-time editorial career as Development Editor at Reader's Digest Books. Since then she has written the collection of books displayed here, contributed to magazines such as Countryfile and The Countryman, given many talks and acted as publishing consultant.