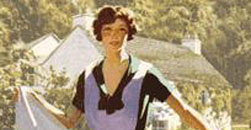 Dry flowers by hanging them upside down
The tried and tested way of producing dried flowers, though they also need to be kept in a warm place – damp may cause them to rot. Fresh herbs can be dried in the same way, and make excellent additions to dried flower arrangements as well as being invaluable in the kitchen.
To dry flowers, tie them into small bunches with raffia. They can then be attached to wall hooks or tied onto coat hangers before being hung up. When dried, flowers can either be arranged in a vase or pressed into a block of bone dry florist's foam to make a display of your choice.
A great number of flowers are good for drying but among the best are roses, sunflowers, hydrangeas and gypsophilas. Most grasses also dry well and are most useful for adding 'sculpture' to an arrangement. Other favourites are everlasting flowers or 'immortelles' such as Helichrysum which, despite their name, still benefit from drying. Many of these are distinguished by having papery bracts
Loose flower petals can be dried to make sweet smelling pot pourri, to which oil-based perfume can be added for extra effect. Leaves, petals and small flowers can also be pressed as keepsakes and used for making decorative cards and collages. If you do not have a custom made flower press take care when using books for pressing – juices from plant material can cause irreparable damage. Use plenty of thick blotting paper, which will also aid the drying process.
All kinds of dried seed pods and heads look great in dried winter arrangements – pick those of poppy, scabious, teasel and sedum.
Other easy-to-grow plants that make superb dried flowersare:
Limonium
– statice – pick as buds begin to open; they will open more as they dry.
Salvia
– blue sage – pick when flowers are fully open. Leaves also dry well.
Achillea
– yarrow – cut when flower heads are fully developed.
Lavandula
– lavender – pick when flowers are opening. Also useful for scented lavender bags.
Taken from the book Wise Words and Country Ways for House and Home.